Green is the New Black – Sustainability in wine (2/3)
Door: Kristel Balcaen - DipWSET
In July's D6 paper, we were also asked to examine how wine producers can improve their social sustainability through employee relationships. Another interesting angle to truly sustainable development, and one we may not automatically consider when we hear the word 'sustainability'.
Social sustainability deals with the identification and management of business impacts on people, both positive and negative. What companies do, directly or indirectly affects their employees, workers in the wider value chain, their customers and the local community they are embedded in.
How to improve social sustainability for wine industry employees is a complicated question, in part because social sustainability has many faces. Wine is produced on all continents but Antarctica, and circumstances in different countries, regions and layers of society are highly divergent. In areas with stable, mature economies and reliable social protection in place, the focus tends to be on wellbeing, actions to improve work-life balance and on mitigating the effects of peak-season overtime. Meanwhile, in regions where working conditions for full-time, seasonal or migrant workers are still largely unregulated, sustainability needs to address basic human rights, health and safety first.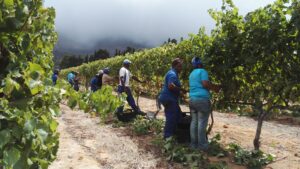 Working conditions and workers' rights
To illustrate this chasm: a 2020 study in Austria and Germany identified job satisfaction criteria among wine sector employees, such as remuneration, career opportunities, recognition by colleagues and managers, quality of the wines and alignment with the company's philosophy.
In contrast, a 2021 OXFAM report revealed large-scale exploitation of immigrant workers in areas of Spain, Italy, France, Bulgaria, South America, New Zealand and South Africa, with issues ranging from excessive working hours, below-minimum wages and lack of insurance, to forced labour, abysmal housing conditions and severe health and safety hazards. International investigations even linked certain seasonal-labour agencies to organised crime groups involved in human trafficking.
But even in businesses where workers' basic rights are fulfilled, improvements can be made. In its sustainable winery checklist, the US Pacific Northwest's certification body LIVE states criteria for community impact, workers' health, safety, education and benefits, from staff training and policy participation to adequate meal periods, rest breaks and availability of hygiene, sanitation and first-aid facilities. Remuneration for members must exceed legal minimum wages, with paid overtime and vacation, healthcare and retirement benefits. Equally, in South Africa, the IPW sustainability guidelines include staff training, health and safety measures.
Employability
Wineries can also launch own initiatives for a socially sustainable workplace. John Williams of Frog's Leap in Rutherford, for example, invested in year-round employment and benefits for their immigrant workers. He involves employees in decision-making and continues to lower the spread between the lowest and highest-paid jobs. O'Neill Vintners & Distillers offer university scholarships and internships to advance the representation of black, indigenous and people of colour and ensure a well-rounded, diverse workforce. In 2011 Moët Hennessy Louis Vuitton created a sheltered workshop for disabled employees, several of which secured permanent contracts at their Champagne houses since. In Bordeaux, Château Montrose developed ergonomic tools for its workers, while Château Anthonic increases employability by teaching vineyard skills to low-skilled young workers.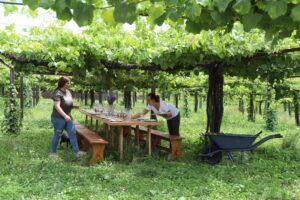 Community
Social sustainability can also be improved by contributing to the local community, forging bonds with people, organisations and businesses in the region. Companies can recruit, source services or goods locally and support regional tourism and initiatives. When wine producers work constructively within their community, it raises the brand's image and strengthens their employees' positive feelings about the workplace. This in turn boosts employee retention, engagement, motivation, productivity and customer service.
Measures to mitigate negative impact on the community and enhancing environmental sustainability further improve employee relationships. As marketing expert Helen Wells asserts:
Better brand, happier staff. Being perceived as a green company is great for your brand image, and can make staff recruitment and retention easier. People want to work for companies that are part of the solution, rather than part of the problem.
Management
Finally, I want to stress the value of 'enlightened management' in employee relationships. For a business to be socially sustainable, it should not be run in fear, mistrust and micromanagement. Hiring the right persons for the job, rewarding them fairly, providing meaningful involvement and growth and training opportunities, are the ways forward. If this is actively and consistently put into practice, even staff who leave the business are likely to remain brand advocates. They can also become trusted contacts or business partners in their new capacity, which results in a strong, sustainable social network.
An example of a wine producer with such a strong socially-centred philosophy is Wirra Wirra in South Australia's McLaren Vale. On their way to the entrance, staff and customers, referred to as the 'Wirra Wirra tribe', pass an installation with the words of the iconic Greg Trott, who revived the winery in the 1960s:
Never give misery an even break, nor bad wine a second sip.
You must be serious about quality, dedicated to your task in life, especially winemaking, but this should all be fun.
---
Continued in part 3.
This article is based on the July 2022 D6 paper Kristel submitted. Read it here.
Kristel passed this paper with distinction, a mark that few achieve for this unit within the WSET Diploma course.