JEREZ – AGEING WINES FOR THE NEW ERA.
By: Kristel Balcaen - DipWSET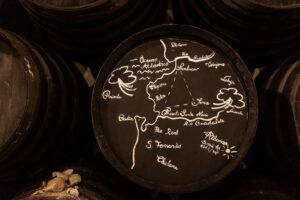 If you'd ask which wine regions in the world are currently most undervalued, Jerez is definitely in my top five. Sherries are not your average quaffable or 'easy' wines, and their reputation as a Sunday aperitif for well-coiffed grannies unfortunately lingers. Yet there is so much more to sherry than the weeks-old, basic-quality finos we learnt to avoid in many pubs and restaurants.
Anno 2023, Jerez' producers are increasingly focusing on quality rather than quantity, and we get to discover an exciting diversity of styles and opportunities to explore their food-pairing potential.
Copa Jerez 2023
The versatility and food-friendliness of sherry wines were confirmed once more a few weeks ago, in what has become the heyday of sherry-focused gastronomy: the Copa Jerez. After Fabian Bail and Paul-Henri Cuvelier of restaurant Paul de Pierre took home the three main prizes in 2021 (Best Chef, Best Sommelier and Best Pairings overall), I can only imagine the courage it must have taken to register for this year's Belgian preselection. But fortunately those brave souls did show up, and among them, Chef Arnout Desmedt and Sommelier Gianluca Di Taranto of A Cook & GDT were selected to represent Belgium for the 20th anniversary edition of the Copa Jerez.
2021 met de drie hoofdprijzen naar huis kwamen (Beste Chef, Beste Sommelier and Beste Pairings), kan ik me voorstellen dat het veel moed vergde van de nieuwe lichting om zich in te schrijven voor de Belgische preselectie van dit jaar. Maar gelukkig durfden verschillende dapperen het aan, en onder hen werden Chef Arnout Desmedt en Sommelier Gianluca Di Taranto van A Cook & GDT geselecteerd om België te vertegenwoordigen op de 20ste editie van de Copa Jerez. De magie die we proefden bij de Belgische finale, hebben ze in Jerez ook kunnen overbrengen aan de indrukwekkende vijfkoppige jury, met Jancis Robinson (Master of Wine & wijn journalist), Almudena Alberca (Master of Wine & wijnmaker), Melania Bellesini (sommelier van The Fat Duck***), Pascaline Lepeltier (schrijfster & Beste Sommelier van Frankrijk 2018) en Josep Roca (sommelier & mede-eigenaar van El Celler de Can Roca***).
They worked their magic in Jerez too, resenting stunning dishes and pairings, which landed them a second place overall, and as the cherry on top, Gianluca won the coveted 'Juli Soler Award for Best Sommelier' award. The impressive five-member jury was Jancis Robinson (Master of Wine, wine writer and critic), Almudena Alberca (Master of Wine and winemaker), Melania Bellesini (sommelier at The Fat Duck***), Pascaline Lepeltier (writer and Best Sommelier in France 2018) and Josep Roca (sommelier and co-owner of El Celler de Can Roca***).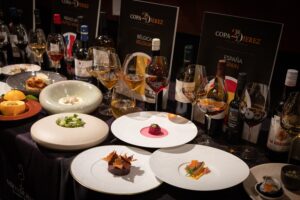 Their artichokes starter, paired with Bodegas Valdespino's Fino Inocente, was inspired; followed by a gutsy plant-based main course, titled 'winter vegetable rice', matched with Equipo Navazos' scrumptious Manzanilla Pasada La Bota 103. To end with a playful take on Crêpe Suzette (without the crêpe, with Cox apples ánd served in an orange), which they served with the excellent Cream Tradición VOS by Bodegas Tradición.
Jerez – blending old and new
To develop a deeper understanding of any wine region, its people and its products, you need not only savour the local food and drinks, but also walk the vineyards, sniff the air, feel the soils under your feet and the weather conditions on your skin. Fortunately this trip also offered the opportunity to do just that.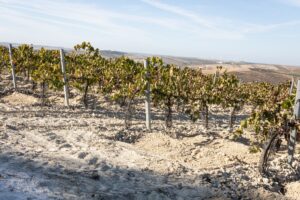 Seeing the grey-green dust-covered vines helped me understand why clarifying the must before fermentation is essential here. Hearing and feeling the albariza soils crunch under my feet, baked to a crust by relentless sunshine, gave clues about how vines survive the dry summers here, but also why aserpia troughs are dug between the vine rows after harvest to make the most of the autumn and winter rains.
Equally, strolling between the endless rows of casks in the cathedral-like bodegas, soaking up the bordering-on-spiritual atmosphere, permeated with yeasty, nutty, curry-like smells and misty cellar dust, made it sink in what a unique heritage is being preserved here.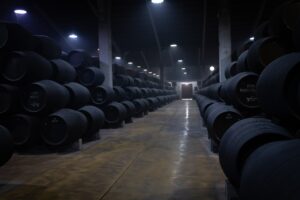 And Jerez is evolving, with an increasing number of quality-focused producers, and interesting developments in the production of unfortified wines.
Unfortified wines as such are not a new phenomenon in Jerez; they are part of the region's history. Traditionally there were the so-called 'vinos de pasto' or 'wines of the grasslands', referring to the typical food wines of the region, intended for local consumption. There also are many historic references to unfortified sherry-like wines, which achieved a high alcohol percentage due to late harvesting and/or the soleo or asoleo process of sun-drying the grapes, before fortifying became more popular in the 17th and 18th centuries to stabilise the wines for their long sea voyages to foreign markets. In D.O. Montilla-Moriles, creating sherry-like wines without fortification is still common, and if you haven't tried an unfortified Fino from PX grapes yet, I highly recommend it.
Closer to Jerez, unfortified sherries have also been gaining traction these past 15 years, and this is reflected in the new regulations for the D.O. Jerez. Since October 2022, sherry wines no longer have to be fortified, providing they reach the minimum required alcohol percentage (15% for Fino and Manzanilla). The other rules, i.a. undergoing biological ageing under flor and maturation for a minimum of two years, of course still apply.
Interesting to note also is that in those new regulations, a number of traditional grape varieties such as Beba, Perruno and Vigiriega, have been included for sherry production, and the Zona de Crianza or area of maturation has been expanded to match the area of production. This means that sherry wines now no longer have to be matured in the 'Sherry Triangle' of Jerez de la Frontera, El Puerto de Santa María and Sanlúcar de Barrameda. Bodegas in surrounding towns, such as Chipiona and Chiclana, can now mature, market and sell their own sherries directly as D.O. Jerez.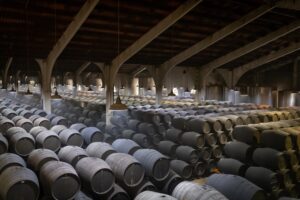 These are interesting developments for sure, but how it will play out is impossible to predict at this stage. One thing is certain: the Consejo Regulador and the sherry producers will have their work cut out for them: guiding sherry into a new era, navigating new and changing markets and consumer preferences, exploring the food-pairing potential of the different sherry styles with diverse cuisines from all over the globe, and all this while raising and upholding quality standards. And they will need to come up with a fitting name for the increasingly popular 'regular', unfortified wines category in Jerez, which has much higher quality ambitions and gastronomic potential than its current, unofficial name tag 'vino de pasto' indicates. If you'd have any suggestions, do let them know …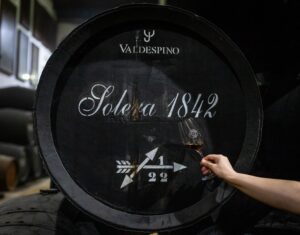 Meanwhile, as the days turn cold and dark again, few comforts are more soothing to the soul than curling up on the sofa with a glass of your favourite sherry in hand.
Salud, to a great autumn and a heart- and belly-warming winter!